The EU has committed to becoming climate-neutral by 2050. As an interim step, Europe's CO2 emissions are to be reduced by at least 55% of their 1990 levels by 2030. The German federal government has consequently intensified Germany's climate-action targets. Large-scale funding programmes from both the EU and the European states themselves have unlocked tremendous investment opportunities for technologies capable of advancing the decarbonisation of economies, particularly in energy-intensive sectors. In June 2020, the German federal government alone resolved to provide nine billion Euros' worth of funding for research, development and manufacturing. And it's a similar story in other European countries. So incentives are in place to invest in new hydrogen technologies.
Investments in sustainable technologies to prevent CO2 (carbon offset) are reaching record values, and investors are increasingly assessing projects in terms of sustainability criteria. Among the preferred areas are hydrogen technologies for production, transportation, storage, distribution and application – not least as part of sector coupling.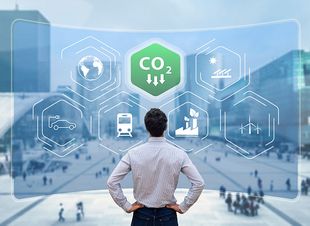 Opportunities in the development of hydrogen infrastructure
The globally increasing sustainability requirements for investments and companies could even see market shares distributed in terms of quality of hydrogen infrastructure. These technologies are set to boom imminently. And the tremendous funding programmes initiated by the EU and German federal government are driving this development.
But it is still unclear how well certain technologies rate in the competition for efficiency, reliability and cost trends. The time frames for usage and availability are also still fluid. It is anticipated that not every concept trialled today will be able to be implemented profitably, and not every project will yield strong returns.
HydroHub is on hand to assist with preparing solid decisions for the future in relation to the hydrogen economy – both with the financial and with the technical know-how of the TÜV NORD GROUP's 70 globally active companies.
The coming years will be about setting up the infrastructure for the hydrogen run-up. Because, according to the latest study by Aurora Energy Research based on policymaker input, the trade volume for hydrogen will increase to around 120 billion Euros a year Europe-wide by 2050. The forecast assumes that the H₂ market will grow to 2500 TWh with a volume of 327 TWh, roughly corresponding to Europe's current total power generation.
Hundreds of highly specialised services
When it comes to assessing developments of importance to the profitability of established and new hydrogen technologies, HydroHub provides access to the excellent 360° expertise and consulting, engineering and training services of the TÜV NORD GROUP companies.
We identify correlations, are familiar with the procedures for funding grants, advise all market players and institutions along the value chain, and thus also keep track of future development opportunities and risks. We are able to assess market sectors and draw well-founded conclusions with appropriate competence and independence.
Identifying, assessing and handling technical hazard sources and risks have been central tasks of the TÜV NORD GROUP for over 150 years. We have developed in-depth skills in all areas of industry, and now offer hundreds of specialised services, particularly for the hydrogen industry. Our services are already helping protect against risks and optimise process chains wherever hydrogen can be produced and integrated into the industrial value chain.
Optimal use of the available technologies and a gradual switch to green hydrogen is the declared aim Europe-wide, and this is also what drives us to practically engage in all relevant fields of the hydrogen economy. HydroHub helps companies maximise their business development.
We understand the importance of fundamental parameters when it comes to making decisions about investing in new technologies. Contact us, and we'll assemble a team of experts for your project.